Ask a Question Book A Consultation
What is IPL? Is IPL a laser?
IPL, or intense pulsed light, is a treatment for skin rejuvenation. While people call IPL a laser, it's actually not a laser and uses broadband light to treat the skin. IPL is used to correct the skin's appearance by diminishing red and brown discoloration. It also improves skin tone and texture by increasing the skin's elasticity and promoting the production of new collagen.
IPL for skin rejuvenation?
While IPL has traditionally been used to correct skin photo-damage, recent studies have shown that it can also be used to prevent further damage and skin aging.
A recent Stanford University study proved that regular treatments with IPL actually revise the gene expression of older skin, resulting in older skin appearing similar to the gene expression profile of younger, untreated skin. In other words, regular IPL treatments rejuvenate your skin at a molecular level resulting in scientifically measurable younger, healthier looking skin.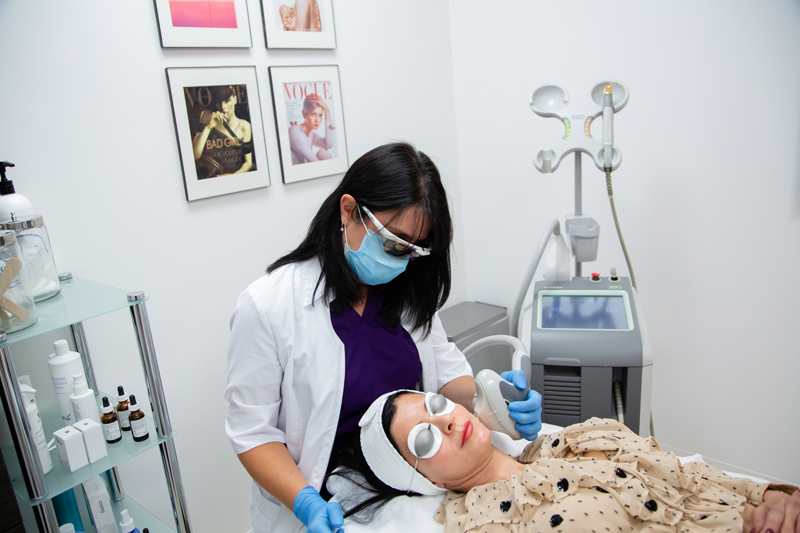 What does IPL treat?
IPL treatments address vascular lesions such as facial telangiectasia (small blood vessels), diffuse redness, rosacea, matted complexions as well as solar lentigines, or brown spots caused by sun damage. When combined with other laser treatments, IPL can help treat acne and the redness associated with active acne.
Who can get IPL? Side effects?
It can be safely used on skin types I-IV meaning white skin, until light and medium brown skin. It is not recommended for use in black skin.
IPL should not be used on tanned skin or black skin as this can result in burning, blisters and severe discoloration and bar marks from the IPL crystal hand piece that can last a long time.
Ask a Question Book A Consultation
What areas can IPL treat?
Areas most commonly treated are the face and décolleté. The back, arms and back of hands may also be treated.
Several treatments may be required to reach the desired effects. In multiple cases, as little as 2 IPL treatments are extremely successful to correct and treat the patient's initial concerns.
Patients should not be treated if they have had significant sun exposure or artificial tanning 4 weeks prior to treatments.
What can one expect after an IPL treatment?
Typically the darkest browns get darker and flake off like "coffee grounds" after about a week.
The reds diminish over a few days. The skin will appear brighter with a more even complexion.
IPL hair removal?
IPL is NOT a hair removal device. While in some cases some hair will be removed, this is not a laser and does not penetrate deep enough to obliterate the hair follicle.
As with all our treatments, we recommend maintaining your results with good skin care, including a daily SPF.
As with all treatments, maintenance treatments are required. Recommended maintenance can range from 2-4 times a year to maintain a clinically visible younger looking skin.